NURTURE EMERGING BUSINESS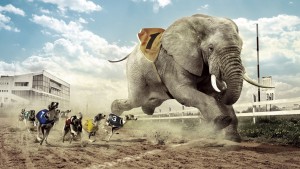 The Exploitation strategy highlights the organization's profit-making objective by business excellence. Exploitation is taking what you already have, and extend it into new areas of revenue-driving activities.
Transitional change management
Frequently, businesses know that they need to make a change in order to remain competitive in their marketplace. How the business operates today needs to be transitioned to a new way that is understood by the leadership of the organization. The company is not charting unknown waters in instituting this organizational change. Such simple yet unpredictable, or complex yet predictable outcomes need transitional change management.
Transitional changes are larger than developmental changes and may be architectural (existing technology – new market) or disruptive (new technology – existing market) type of innovations. These changes may include mergers and acquisitions or replacing and introducing major new systems and processes. They frequently may impact relationships, job functions, culture, and involve substantial retraining.
Companies following the exploitation strategy are   being prepared to respond quickly once markets and technologies are proved. Companies using this approach also have broad sources of knowledge and medium to low risk exposure. They tend to hedge their bets. These companies use mainly incremental innovation with in-house applied Research and Development. Because of the significance of these types of changes, management must proceed cautiously while not becoming stuck in a cycle of indecision that will lead to lost market opportunity.
---
Our positioning:
As 'Business Innovator' we are biased on better ways of doing things as well as a more profitable business portfolio
We renew existing market positions and renew the company's competitiveness and market share within already-defined businesses. We find adjacent revenue streams, enhance your company's business portfolio or acquire new capabilities and so securing competitive flexibility.
Our work typically focuses value creation (quality) on existing business offering, processes and practices to improve efficiency, cut down on waste and increase profits. We follow concentric diversification strategies and strategic fits to accomplish your objectives.